TIME TO PRAY MINISTRIES
Annual Retreat
Join us in prayer at Life Enrichment Retreat Center In Fruitland Park Florida
February 11 to February 14, 2016

Choose to participate in a spiritual retreat responds to some needs and varied motivations: to take a moment to recapitulate, to live a highlight of meditation, deepen our faith ... Living a retreat is decide to withdraw of the way, to take a break from everyday life to take the time to get in the presence of God, to deepen our relationship with God and to discern his call.
Luke 6:12 (CEB) :"During that time, Jesus went out to the mountain to pray, and he prayed to God all night long."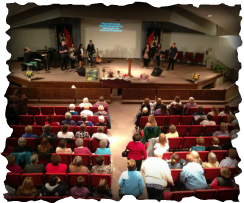 A nonrefundable $30 fee is required per person with this completed application to register.

Price per Person is $300; Price per Married couple is $550

Children 0-3 free, 4-12: $150, 13 to 17: $200

This price includes Transportation in Coach Lines, Conference, Lodging in Hotel Style Rooms (3 Nights), Food (7 Meals), Exploration, Meeting Space, Souvenir T-shirts, and Much More.
---